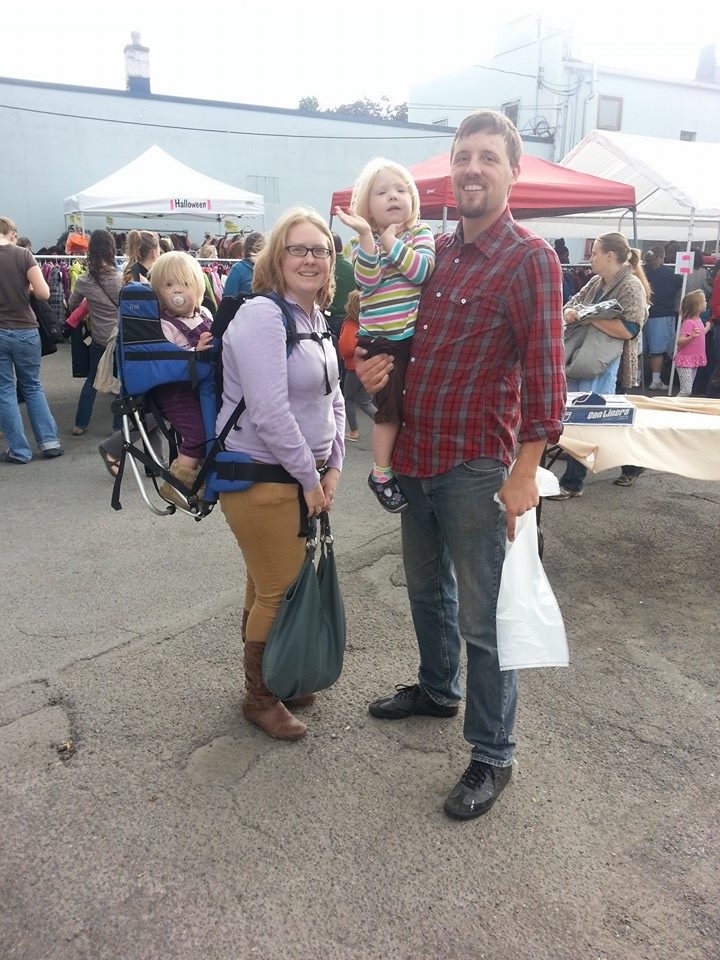 Its that time of year again, folks! Gather up the family and gear up for Mama Goose's 11th annual Coat Sale Extravaganza!
Saturday, September 19th 10am-6pm
430 West State Street, Ithaca, NY 14850
In the Seneca street parking lot!
We buy quality children's winter coats, snow pants, snow boots, winter accessories, & Halloween costumes all year long and stow them away for this fun-filled event. We will continue to have winter outerwear for purchase throughout the winter, but this is always our best selection of the year. PLUS, at checkout, you get to spin the wheel of savings for 10, 15, or 20% OFF your total purchase of outerwear and Halloween costumes. So save the date and plan to attend!
Also, we will be donating 5% of the day's gross sales to the Ithaca Children's Garden. This donation will be used to support ICG's fabulous winter programs such as the Fire & Ice Festival!
The event is held in our Seneca street parking lot, behind Mimi's Attic. Just look for the big white tents.
Here are some frequently asked questions about the sale:
Q: Why have a Coat Sale Extravaganza in the first place?
A: The Coat Sale tradition began when we had a tiny, ginger-bread house-like store at the corner of Seneca St. and Plain St. (2004). It was impossible to fit all of our winter outerwear on the sales floor, and our customers needed to stop in daily to find the right size snow gear for each of their kids.  We realized that if we put all of our winter outerwear in our parking lot on one day, our customers would know what day to come to have the best chance at finding what they needed. And so the Extravaganza was born! The coat sale also allows us to buy great winter outerwear year-round, regardless of sales floor space, which means a better selection for you!
Q: How long are the checkout lines going to be?
A: We're going to implement the same plan as last year which kept things moving smoothly. All shoppers will enter the same line beginning in the Seneca Street parking lot. You will then be directed to one of our four coat sale registers based on your form of payment, and which lines are shortest. Precedence is given to those paying with CASH!
Note: There will be registers in Mimi's Attic and Mama Goose designated for non-coat sale merchandise only.
Q: If I am paying with store credit can I go straight in to Mama Goose?
A: No, sorry. Everyone should enter through the same line (no matter how you are paying) beginning in the Seneca Street parking lot. Once inside of Mimi's, one of our staff members or volunteers will direct you to the correct register line for your type of payment. This plan helps to avoid the confusion that can happen when people enter Mama Goose from different doors.
Q: Will you accept credit cards?
A: Yes, we are happy to accept all forms of payment, but CASH makes the lines go much faster! So, if possible, try to stop at the ATM!
Q: How much will the winter outerwear and Halloween costumes be discounted?
A: When you get to the register, you will either spin the "Wheel of Savings" or draw a marble from the "Discount Jar". You will receive anywhere between 10 and 20% off your total purchase of winter outerwear and Halloween costumes.
Q: Is it worth coming if I can't get there until the afternoon?
A: Definitely! The sale will run all day, from 10am-6pm. We have TONS of merchandise to put out (this is our best selection of the year!) Just come and have fun whenever you can make it!
Q: Can I use my frequent customer stamp card?
A: In order to keep the lines moving, we don't stamp frequent customer cards at the Coat Sale, but if you have a full card, please feel free to redeem it at the sale.
Q: What if I want to shop for non-Coat Sale items like school clothes, books, shoes, toys, diapering supplies, etc.?
A: We recommend that you complete your Coat Sale purchases first, then go shop inside of the Goose. We will have a register reserved for non-coat sale purchases only!
Q: Can I browse at Mimi's before I check out?
A: We ask that you complete your Coat Sale purchases and then go browse. Everyone who makes a purchase at the Coat Sale will receive a Mimi's coupon for 10% off your total purchase which you can use on Coat Sale day or any time before October 31st.
Q: I have lots of kids, nieces, and nephews. Are there going to be carts or something I so I can load up?
A: We will be providing large, clear hefty bags to help you navigate the sale with your bounty!
Q: What if it rains?
A: We have two twenty-foot tents, and several 12×12 foot tents in addition to our shipping and receiving area. We will also direct and manage the checkout lines to keep you sheltered and dry. Don't worry. We've got you covered!
Q: Will you be buying on the day of the Coat Sale?
A: We apologize for any inconvenience, but we will not be buying on the day of the Coat Sale.
Normal buying will resume on Monday the 21st.
Q: I'm not familiar with the area, where can I park?
A: Mama Goose Ithaca is located in Ithaca's West End, which is easy to get to  from route 13. Here is a handy MAP for your convenience. If you are coming from the north, simply take a left off of route 13 South onto Buffalo Street and proceed two blocks, and look for parking on Buffalo Street. Then simply walk down Corn St (across from the park) and you will be right next to the sale. Parking is free on weekends. Parking can also be found on Corn, State or Seneca Street. Note that our address is 430 West State Street, the coat sale takes place around the back on Seneca Street in our parking lot.
If you have any unanswered questions, feel free call us at 607-269-0600.
We hope to see you at the Extravaganza! Don't forget to bring a friend and making a day of it! You are sure not to walk away empty handed.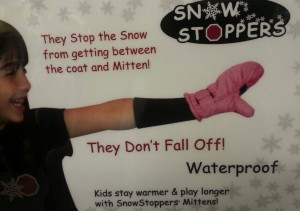 In addition to quality used outerwear, we will have a fresh new inventory of the popular Snow Stoppers gloves and mittens!