Summer has finally arrived!  In addition to being the season of sunshine, summer is also the season of celebrating — summer weddings, picnics, festivals, parades, pre-parade porch parties… it seems like every other day someone you know is having some kind of shindig.  How on earth is anyone expected to stay stylish through all of that hullaboo?  Let's look to our Look of the Month model, Avi, for some guidance.
15-month-old Avi knows how to dress to impress this season.  His summer look suits any June occasion, from boating to BBQing, from yachting to yogurt-eating.  Whatever the occasion, Avi is nailing it in these Nautica shorts (sjze 6-12 months, $3.95) and Ralph Lauren short-sleeved button-down (size 12 months, 4.95.)  The Jane & Jack blazer (size 12 months, $14.50) adds a layer of chic and warmth for a breezy summer eve, and he tops it off with a patterned tie from our tie bin ($1.00) and See Kai Run Ryan sandals (size 5, $35.00 –new!).
As though the look itself weren't enough, Avi seals the deal as the best dressed toddler of the season by rolling up to the party on a Kettler trike ($56 on consignment.)
This kid is all set to have some summer fun and look good doing it.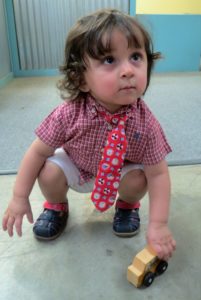 If you know a kid who'd like to model for our Look of the Month feature, sign up at the register the next time you stop by the Goose.  Models and their mamas and papas get 10% off on the day of the LOTM shoot, plus the lifelong fame and adoration that comes from starring in our corner of the internet.
Welcome to summer, everyone!  See you at the Goose.