Oh, Facebook. Every time we start thinking we might want to date some other social media,  you lure us back in with  some nifty new feature that reminds us how much you mean to us. Take your "On This Day" App for example. Without it, we may have forgotten that Mama Goose used to have a super fun blog (you know, when blogging was the new cool thing) and that on that blog was an amazing feature called Look of the Week, which showcased adorable outfits modeled by real life Mama Goose customers and their goslings. After seeing all the throwback photos on Facebook, our Look of the Week nostalgia became so intense that we've decided to bring back a modified version: Look of the Month!
Some of you may remember these adorable toddlers from Look Of The Week version 1.0: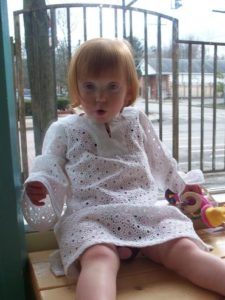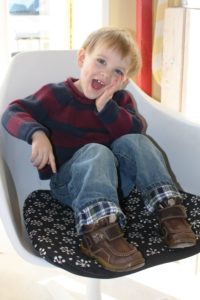 That's Corrina and Owen, circa 2010, rocking some adorable toddler sized duds.  Flash forward six years, and those crazy kids went and did something outlandish:  they grew up!   Check it:
These kids are so grown they have their own coffee dates, and they do it in some serious seven-year-old style.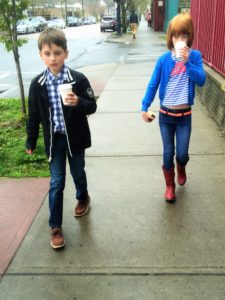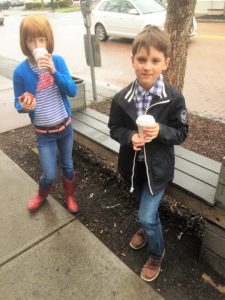 Corrina and Owen  (Hollywood couple name …. Cowen?  Owena?) are dressed in head-to-toe Goosewear.  Corrina's Mini Boden cardigan (size 7/8, $8.95) is layered over a Crewcuts tee (size 8, $2.25) and paired with Tractor jeggings (size 8, $6.95.)  She accessories with an apricot belt ($1.00) and those incredible red cowgirl boots (size 2, $9.50.)
Owen's classic look begins with a pair of Gap jeans (size 8 slim, $7.95) and navy canvas belt ($1.00.)   His checkered button-down is also Gap (size 8, $7.50) and he's staying dry in an Abercrombie windbreaker (size 10, $14.95.)  Because you're never fully dressed without some quality footwear, Owen pulls his look together with some classic Sperry loafers (size 3.5, $17.95).
Like any hipster duo worth their salt, Cowena (right?!?! that's the winner) finish their Gimme! beverages and (after a wardrobe change) head over to do some light furniture browsing at Mimi's Attic.
Owen's furniture-perusing ensemble pairs the same classic Gap jeans (size 8 slim, $7,95) with a Hanna Andersson striped t-shirt (size 120, $4.95,) a Two Turtles by Sweet Potatoes vest (size 7, $2.95) and Supra sneakers (size 3, $7.95.)  Corrina is channeling her inner Angela Chase in a Mudd floral dress (size 7/8, a total steal at $3.50), a Cherokee denim jacket (size 7/8, $5.95,) hot pink tights ($1.95) and kidlet-size Danskos (size 13, $16.50.)
Tuckered out from all those big kid activities, Cowena head back to where a kid can be a phenomenally dressed kid, Mama Goose, for one more wardrobe change.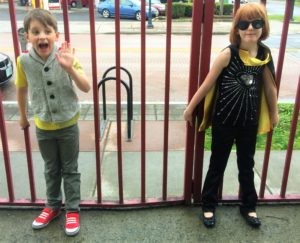 Owen slipped into something more comfortable (an entirely Goose-source outfit that he now calls his own, featuring  Andy & Evan pants, an OPPA shirt, and a Junk Store vest.)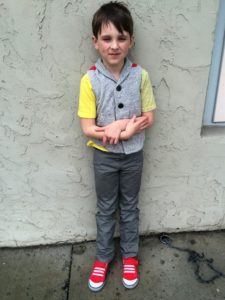 Corrina took the opportunity to remind us that it is completely reasonable to wear a cape with an every day ensemble.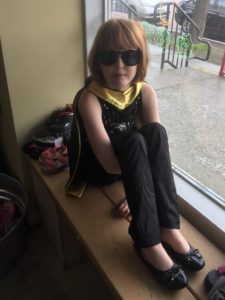 She's wearing a Sewingmommy Batman cape (ages 3 and up, $27.00) with a Target tank (size 9/10, $2.95,) DKNY satin pants (size 8, $4.95) and Nine West flats (size 13.5, $7.95.)  And because you can't look a girl this cool directly in the eyes, Corrina covers her baby blues with a pair of Mama Goose women's sunglasses (a total steal at $7.00!)
If any of these items tickled your fancy, get thee to the Goose and make them your very own!   And if you know any tiny humans who might be interested in being a Look of the Month model in the future, sign 'em up at the front counter next time you stop in the store.  We've got so many more memories to make (so that Facebook can continue to hold on to them for all eternity.)
XOXO,
Meryl for the Goose