Meet Theresia, this month's Look of the Month model.
Hot dog! Is she cute or what?
(Hot dog costume, size 3-6 months, $7.95)
---
Halloween inspires a wide variety of reactions throughout the parenting community.  Some mamas rejoice in hand-making costumes; lovingly stitching felt and attaching feathers using organic, locally-sourced hot glue. Others take a simpler approach- recognizing that money can buy happiness when it comes to bypassing the potential "my Spiderman costume doesn't look like the real one" argument.
Halloween shopping at Mama Goose has the best of both worlds. Our costumes can go straight to the street for trick-or-treating or lay the foundation for a more complex, homemade ensemble. We have a great selection of outfits in sizes ranging from teeny to tweeny.
Plus- all costumes are on sale this month!
20% off October 10-16
30% off October 17-23
50% off October 24-31 (That's right. We reward you procrastinators.)
Not only does our model make a delicious dog of the edible variety- she can also pull off a zebra (Old Navy costume, 6-12 months, $7.95) and a giraffe (Miniwear, 12 months, $9.95)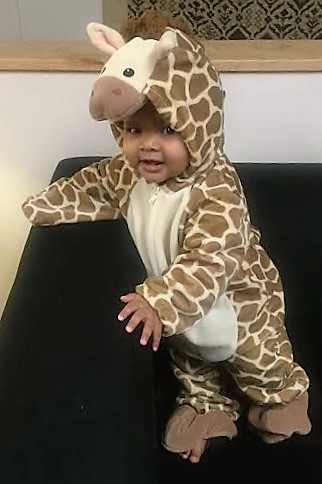 She's even the cutest little purple dragon (Old Navy, 6-12 months, $9.95) you've ever seen.
Come on down to the Goose to see which of our spooky costumes belongs on your little monster.