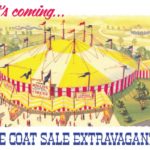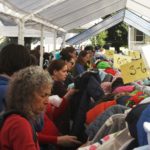 Don't miss our 13th Annual Mama Goose Coat Sale Extravaganza!
Saturday, September 23rd 10am-6pm
430 W. State Street, Ithaca, NY 14850
In the Seneca street parking lot just behind Mimi's Attic.
Just look for the big tents!
Throughout the year, we stow away winter coats, snow pants, snow boots, winter accessories & Halloween costumes and bring them ALL out for this fun-filled event. Our entire winter outerwear stock is rolled out under big tents in the back parking lots. We will also bring out NEW Snowstopper gloves & mittens and have a storewide sale inside the store. Mark your calendars. This is our biggest event of the year!
Draw a lucky marble at the register for 10, 15 or 20% OFF your total purchase of winter outerwear & Halloween costumes!
Let's build a stronger community together!
We will donate 5% of all 2017 Coat Sale Extravaganza sales to the Fresh Snack Program. This awesome organization provides healthful, plant-based snacks to five ICSD elementary schools and also brings fun, educational culinary activities into classrooms throughout the district. Kids of all ages have an opportunity to learn about healthier food choices and local food systems. We at Mama Goose love being able to make this annual Coat Sale donation to an organization that helps kids in and around Ithaca. Together with YOU (our sustainable and savvy shoppers!) we are helping to build a stronger, healthier community.
Join our Facebook event HERE!