With temperatures still high and humidity ever present, movin' and shakin' can be uncomfortable for parents and baby alike. Lucky for us, innovations in babywearing and travel accessories have made traveling with baby easier for all parties!
In summer temps, a lighterweight and more breathable carrier is key to happy and healthy babies, and calm and dry parents. Major carrier brands have answered the call with active models that keep baby safe, keep mama or papa cool, and look great doing it.
This lime green ErgoBaby Sport carrier ($40) is made from a poly-cotton blend, giving it a lighter-weight feel without sacrificing durability. This carrier features a vent, allowing more air to circulate around baby, and has a detachable hood to debulk the area around baby's head. Adjustable to front inward carry, hip carry, and back carry, the ErgoBaby Sport lets baby hit the trails or the aisles of Target with the same ease.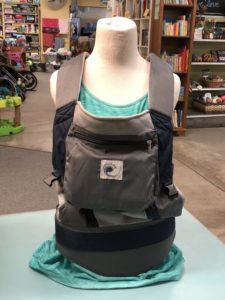 The ErgoBaby Performance Carrier (in grey, $80) is the ultimate carrier for super active moms and dads. Featuring a lightweight fabric with mesh lining, it's ideal for outdoor sports and activities. Its durable, water-repellant outer layer provides protection from the elements and the contoured shoulder straps keep baby close. This is the ideal carrier to explore the gorges and hiking trails of the beautiful Finger Lakes!
Hitting the beach? This Boba Air carrier ($35) is super portable and breathable in all the right places! Made from an ultralight nylon material, the carrier is self storing and super easy to wipe clean. Toss this right into your backpack or beach bag, and your little one can nap or nurse on the go with ease. Any mess shakes or wipes right off and boom – back into your bag it goes!
But what about when your little one is travelling on wheels? How do you keep baby from becoming a sweaty mess while riding in the stroller or car seat?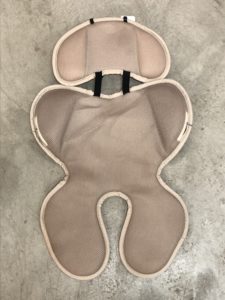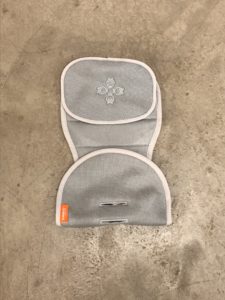 On the left, Manito's Breathe 3D Mesh insert for stroller or car seat ($15) is designed to keep cool air in in the summer, and warm air in the winter. Incredibly easy to install, it is cushioned throughout to keep baby extra comfy and cool.
On the right, this Meeno Babies Cool Mee car seat liner ($1.99) promotes airflow between your child's body and their seat. Removable and easy to wash, Cool Mee car seat liners come with an velcro-adjustable headpiece that allows for horizontal or vertical orientation – whatever suits your gosling and their seat best!
Stay cool out there, mamas (and papas)!