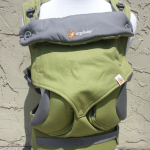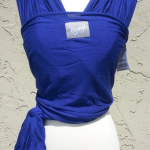 What should you do with your little one when you need to get stuff done around the house, in the yard, while running errands or enjoying the spring with a hike? Wear your baby! If you are not already utilizing a carrier, we think you will love this increased mobility. There are many different kinds of carriers  for various ages and stages of development: wraps, ring slings, pocket slings, structured soft carriers, and hiking backpack carriers will all provide a safe and convenient hang-out for your little one. We promise to help you find the right style that will feel great for both you and your baby!
The benefits of babywearing don't stop at mobility: babywearing can actually make you less stressed. Snuggled together, babies and their grown-ups tend to synchronize their breathing, which forces both parties to relax and puts everyone at ease.Remember, baby carriers aren't just for Mamas. Dads and caregivers alike can reap the benefits of babywearing, too.Many of our papa-customers tell us that the carrier is the first thing they reach for when they want to make their baby happy, or put them to sleep.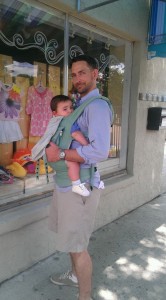 The award winning Ergobaby carrier has been a staple for us and our customers for years because Ergos (as they are affectionately known) have the three attributes that our customers love: style, comfort, and function.  Ergobaby carriers are a soft structured carrier that can be worn as an inward facing front carrier, a back carrier, or a side carrier, and can carry up to 45lbs with comfort and ease!  Recently Ergobaby answered the call for a carrier with an outward-facing option to satisfy those babies who don't want to miss the action, and thus the Ergo 360 was born. We had to have them too and now have the Ergo 360 in stock! You can learn more about Ergobaby brand carriers by visiting their website here.
Additionally, Ergos have a fantastic resale value! In fact, we will buy your used Ergo back from you when you are done with it (which will be years from now).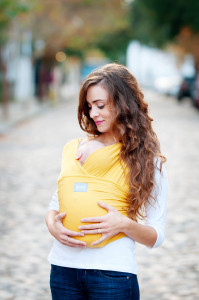 Also near and dear to our heart, is the beautiful and oh-so-soft Bamboo Happy Wrap, which we were pleased to introduce to our customers this past winter.  Now that spring has sprung, these 100% USA made, lightweight organic Bamboo wraps have become very popular! We are also proud to be the first retailer in Central New York to carry these cheerful wraps. You can learn more about Bamboo Happy Wraps by visiting their website here.
To see any of these carriers in person and to give them a try, just stop in to Mama Goose and let us assist you. We also carry a wide variety of used baby carriers and wraps at bargain prices. Which one is right for you? Let's find out!