Whether you're a first-time parent learning about cloth diapers for the first time or a seasoned parent considering trying something new, cloth diapering can be really overwhelming. We all know about the financial and environmental benefits of cloth diapering, but when it comes time to get started, it can seem like the options are endless! On top of that, our parents and grandparents might not be able to guide us because they basically had two options – prefolds and flats with rubber pants, and disposables. Well, if getting started with cloth diapers is something you'd like to do, we at Mama Goose would like to help!  We find it helpful to point out that, despite all the varieties, styles and prices, there are essentially only 5 major types of cloth diapers.
The most affordable option is pre-fold diapers. Present-day pre-folds are less of a struggle than those of decades passed. Diaper pins are a distant memory with the introduction of Snappis diaper fasteners, and today's diaper covers make wrangling a pre-fold very manageable, and much more breathable than the rubber pants of the past. Opting to use pre-fold diapers also saves time on the laundry because pre-folds wash and dry quickly and you don't have to launder wraps every time they're used. Bonus: you can find a variety of adorable, gently-used covers at Mama Goose!
Looking for the cloth diaper that is super intuitive to use? Check out an all-in-one diaper! It is pre-formed, doesn't need a separate waterproof cover, and uses snaps or velcro to fasten, making it the most similar to a disposable in terms of ease of use.
Pocket diapers and fitted diapers (plus cover) are a great middle-ground as they are very intuitive to use, but are more affordable, because they grow with baby from infancy to potty training.
For parents on the go, there are hybrid diapers, a more recent addition to the world of cloth diapers. These diapers have a waterproof, reusable, pre-formed shell, but use disposable liners!
Ok, so that's the 5 major types of diapers in a nutshell! If you'd like more information on the different types of diapers, come on in and talk with us and pick up our "pros and cons" handout regarding the different systems. Read on for commonly asked questions that we get at Mama Goose and more specific how-to's:
Will my baby get diaper rash if I start with/switch to cloth diapers?
Some babies are more prone to diaper rash than others. The best way to avoid this is by changing diapers very regularly, and many moms and dads have noticed that they tend to do this more when using cloth diapers. Because disposables have chemicals that make diapers 'stay drier longer' it can sometimes be tempting to let more time go by between changes. Even with that in mind, some babies get rashes, and you can't just use any diaper cream with cloth diapers, because the chemicals in a lot of big brand creams will eat away at the diapers and drastically shorten their lifespan. Some parents make their own diaper cream, or opt for a natural option like Earth Mama Angel Baby Bottom Balm, which we carry here at Mama Goose.
How do I launder my cloth diapers?
Laundering is different for everyone, depending on what kind of washer you use, if you have access to outdoor line drying, and what kind of diapers you use. For an in depth rundown on laundering, we like to head over to diaper jungle and get the answers: http://www.diaperjungle.com/washing-cloth-diapers.html
The biggest points to remember are that you don't want to wash too many diapers in one load, you will likely need to do multiple rinse cycles, and it is important to find the right type and amount of detergent for your family's needs.
How can I figure out what kind of detergent is safe to use?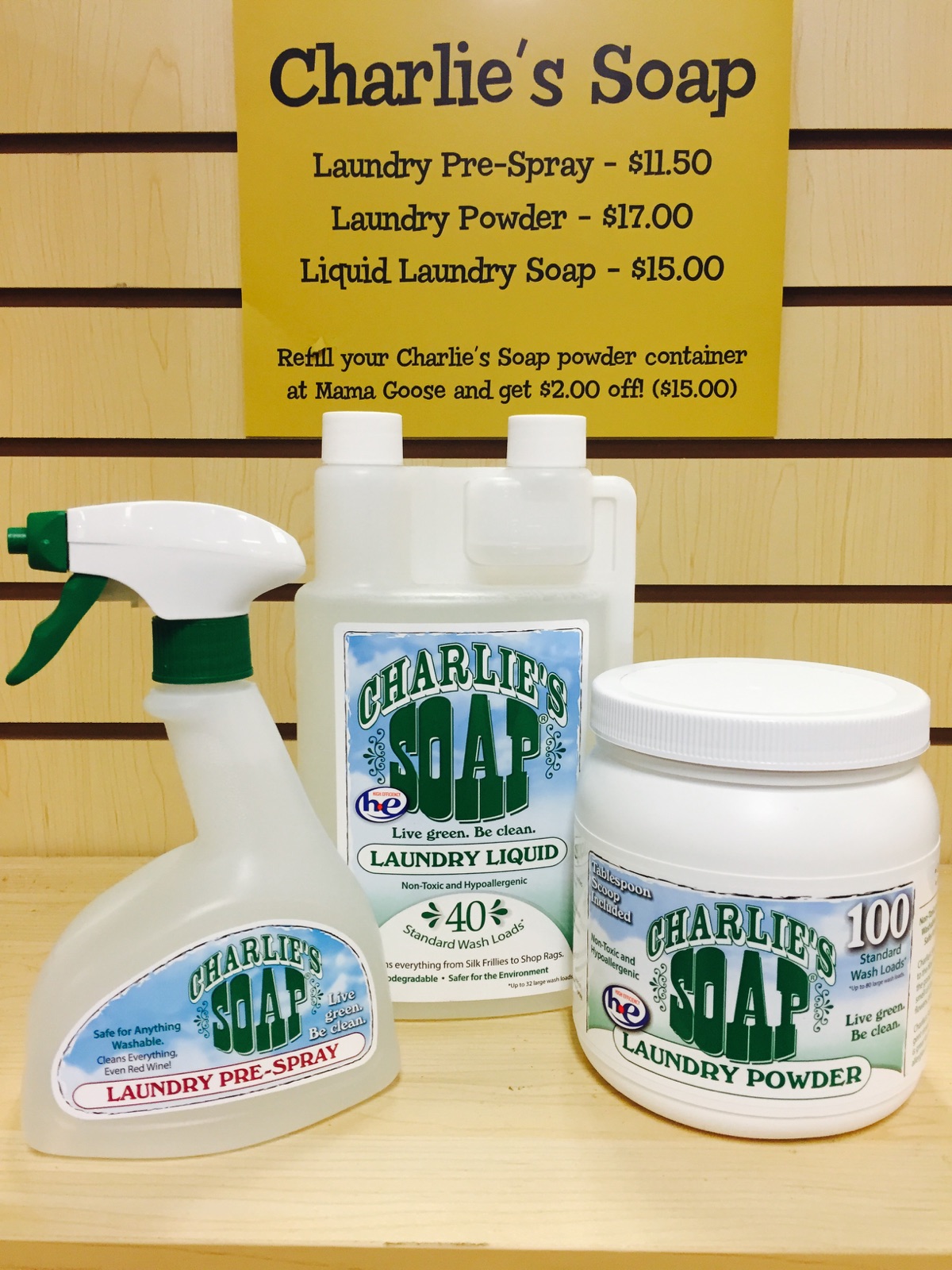 It's important to find a detergent that doesn't have a lot of additives that can leave harmful residue on the diapers. Here at Mama Goose, we love carrying Charlie's Soap powdered and liquid detergent and pre-spray, which is completely dye, scent and additive free.
Bummis Diapers has compiled a wonderful list of detergent brands and whether they would be good for washing cloth diapers and why. It can be found here: http://www.bummis.com/media/detergent-information.pdf
Can I use cloth wipes?
Absolutely! Lots of parents love using cloth wipes because they share all of the benefits of cloth diapers, and cause no extra cleaning! You can choose whether to store them wet or dry, which is a matter of preference for each individual caregiver. We found a great blog post with lots of comprehensive information about cloth wipes to share with you here:
http://soeasybeinggreen-blog.com/cloth-wipes-faqs/
We hope you can stop in soon so we can help you find the perfect cloth diapers for you and your family. We carry new Kawaii pocket diapers and pre-fold diapers, as well as a wide selection of gently-used diapers in all shapes and sizes. Once your goslings are potty trained, you can bring your unstained, structurally sound diapers to sell back to us for cash or store credit and help a new family be green and save some green!