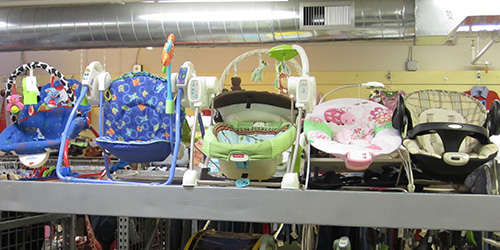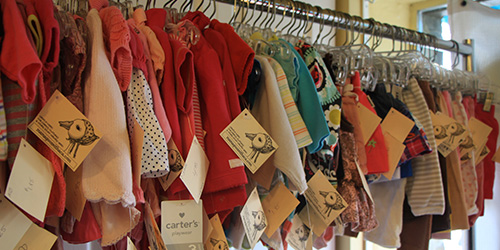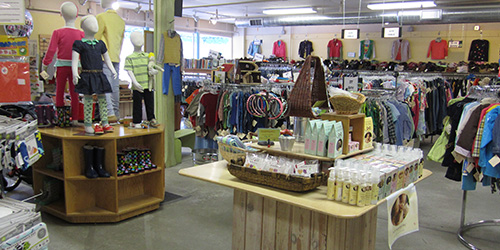 ---
 

We buy every day!
You can walk in with two shopping bags filled with clothes or other items.
If you have more than two shopping bags, please call to make an appointment.
Typically, an appointment size is two full laundry baskets or tubs.
Please pair clothes with their mates and put batteries in all battery operated items.
We ask that all items are clean & smoke free, pet hair free and free of any odor of moth balls or storage.

Still have questions? Refer to our Q&A section below or call our store, our buyers would be happy to help.  
What Are We Currently Buying?
We are at the tail-end of our summer buying season, which means we are buying more selectively, but we are still looking for sturdy, good-condition summer clothing in sizes NB-14, as well as maternity. Walk in with 2 grocery bags full of clothes Monday – Saturday, or call to set up an appointment for large amounts.
As always, we are happy to take a look at any season, anytime! However, some sellers are more satisfied when they sell "in-season" clothing because we are able to buy more, and pay a bit more for in-season clothes. When we buy out-of-season clothing we are more selective with brands/condition, and pay a little less because we will be storing it.
**Our fall/winter buying season kicks off August 6, so plan accordingly and don't hesitate to call to set up your appointment!**
Did you know that we buy on Sundays now?

What Sizes Could We Use More Of?
The following sizes have been selling well recently, and we'd like to see more of them!
Girls' Clothing Sizes:
6-12m girl
12m girl
18m girl
24m girl
2T girl
3T girl
5 girl
6 girl
7/8 girl
Boys' Clothing Sizes:
3-6m boy
6-12m boy
18m boy
24m boy
2T boy
3T boy
5 boy
6 boy
7 boy
8 boy
12 boy tops
14 boy tops
Things we buy
All Year Round:
Dress-up clothes, children's books, dvds & games
Halloween costumes & high-quality outerwear for any season.
Rain & snow boots in good condition,
Well-made winter coats
Snow pants
Rain jackets
Bathing suits (suitable for swim lessons)
Basketball shorts
Cleats and shin guards
Cloth diapers
Dance/gymnastics wear
Baby monitors, swings, exersaucers, bassinets and other useful items.
Frequently Asked Questions