Happy "Sprinter," everybody! This old upstate winter is doing its upstate thing, reaching its frozen fingers out as far as they can go, but we're going to ignore it like the tantruming seasonal toddler that it is.  Instead, we'd like to call your attention to something way more important about this time of year… the opening of ICE CREAM SEASON!
Everybody loves Sweet Melissa's and is waiting with baited breath for the soft serve shop to open for the season, but did you know that there are two sister shops open year-round where you can get treats right now?  How Sweet It is in T-burg has been open since 2016, but Sweet Melissa's Press Bay Alley location is brand spanking new!  That's THREE amazing locations for Melissa's special brand of sweet treats.
You know what else comes in a set of three in the Sweet Melissa's family? Kids! Melissa and Matt's amazing triplets showed off their style and their mama's new shop as this month's Look of the Month models.
Meet Henry, Lulu, and Ben — the cutest threesome we ever did see! Henry's rockin' some kelly green jean shorts. which apparently the cool kids are calling "jorts" these days (Gap kids, size 5, $8.95)  with a pelican t-shirt ($1.50) and forest green cardigan (size 5, $3.95), plus some fur-lined Chewbacca Crocs (size 1, $8.95.)  Lulu's gorgeous dress is by Zara (size 5, $14.95) and is paired with Tea leggings (size 5, $1.25) and Tretorn rainboots (size 12, $14.95.)  Ben's jacket is by Vicious Kid (size 3, $14.95) and is layered over an Old Navy tee (size 5, $1.95) and Mini Boden shorts (size 5, $6.95.)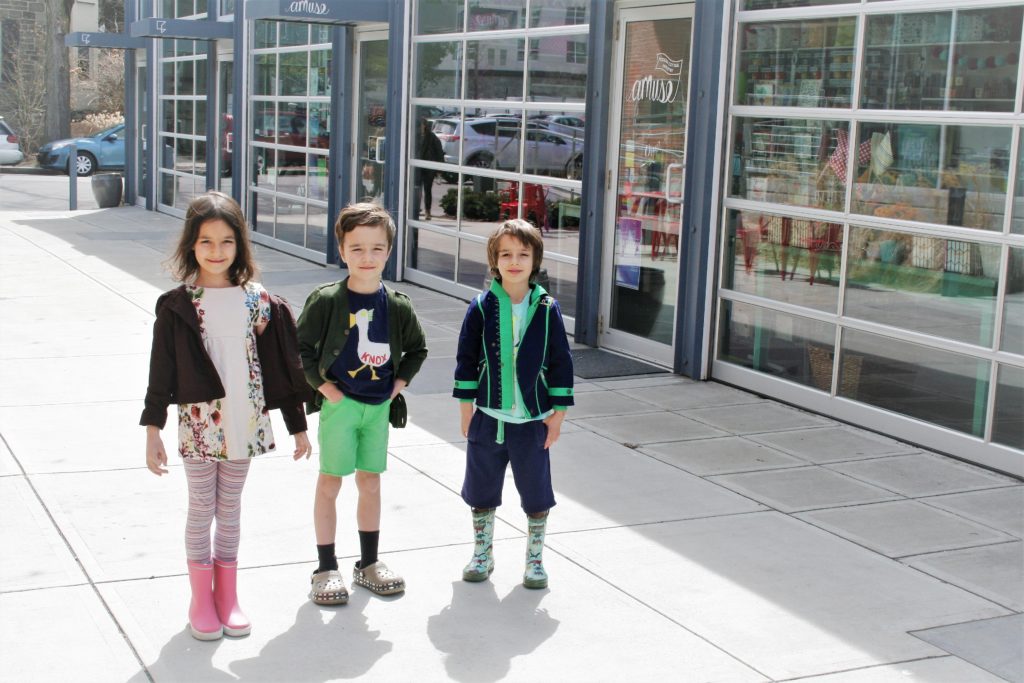 Celebrate the beginning of Ice Cream Season at any of the Sweet Melissa's locations — mention this post, and you'll get free sprinkles on your cup or cone. YAY!
Also, we're updating our Look of the Month model list!  If your kiddos are interested in playing dress up for our monthly feature, e-mail merylirenephipps@gmail.com with their names and sizes (including shoes!) and your preferred method of contact.