Splish, splash! Winter may still be hanging around, but things are slushy enough to make us think ahead to the rainy days of spring! Sweet pea (and puddle enthusiast) Kaleb stopped by Mama Goose to help us show off this season's selection of brand new rain gear!
This one-piece rainsuit by Splashy (size 3, $35.00) goes perfectly with Western Chief firefighter rainboots (size 12, $25!)! Super protective, you can throw one of these easy-zip suits on over your gosling's school clothes or special occasion outfit and not have to worry about last minute changes or soggy socks!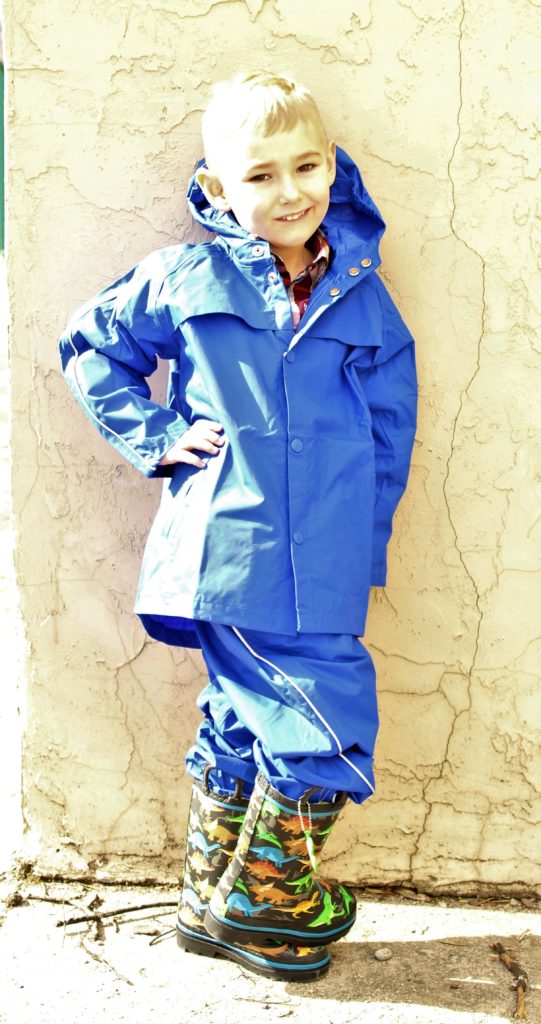 A full suit not your little one's style? Not to worry! Check out how adorable Kaleb looks in our two-piece rainwear option! His blue Splashy pants (size 4, $25.00) and hooded jacket (size 4, $32.00) tuck right into fleece-lined dinosaur boots (size 12, Western Chief, $30.00.) These separates are easy to move around in – making them perfect for those soggy spring sports!
If you're ready to start doing puddle prep for your little ones, the Splashy suits and Western Chief boots come in several other colors and styles. Some of our boots even light up! Pop on down to the Goose and check them out!