School is out and summer is in full swing! It's a great time of year to be a kid in Ithaca. With all of our local lakes, parks, and gorges, a kid can basically live in swimsuits and sandals. This month's family of models shows us how!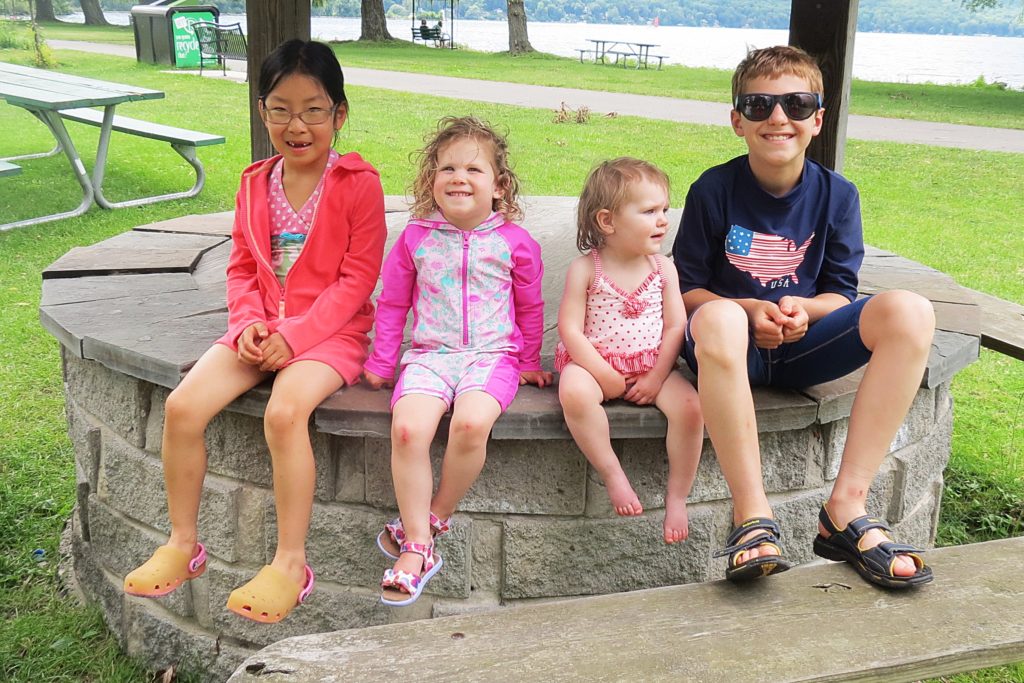 Meet the Johnson kids! Mama Jody volunteered her crew of cuteness to show off this month's styles. 7-year-old Hannah, 3-year-old Khesed, 1-year-old Shalom and 11-year-old Josiah took to Stewart Park to make fun in the sun look extra adorable.
Hannah's multi-patterned Mini Boden suit (size 6, $6.95 ) goes perfectly with a Lands' End terrycloth cover-up (size 5, $6.95) and size 12/13 Crocs ($5.95.) Khesed's hooded wet-suit features a zipper and flamingos (Little Me, size 3, $5.95) and goes perfectly with polka-dot Toms sandals (size 6, $8.95.) Shalom's adorable two-piece tankini is by Absorba (12-18 months, $9.95) and Josiah's Speedo trunks (size 10, $4.25) pair perfectly with $1 sunglasses, a Cherokee rashguard (size 12/14, $6.95) and Timberland sandals (size 4, $12.95.)
Summer adventures await these four adorable siblings, and your family as well! Come down to the Goose to take advantage of our summer sales, then get out there and have some fun!