We made it! After months of camp schedules, mosquito bites, and the never-ending search for dry towels, September is here. Once again, those glorious angels of education we call teachers are opening their arms to our kids for another school year.  All we have to do is dress 'em up and drop 'em off!
This month we had a fine looking family of kids to show off how great back to school can look.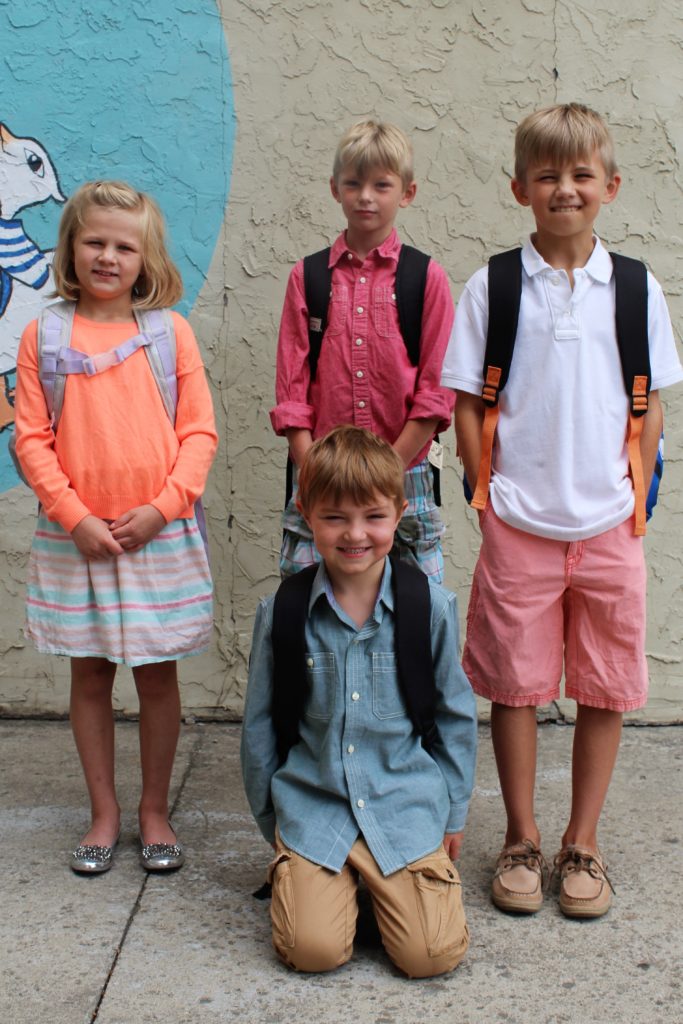 Before heading back to school, Lexi, Marcus, Aidan and Lehigh took some time out of their end of summer schedules to show off some back to school looks for us!
Marcus is rocking an OshKosh button-down (size 8, $3.50) with Mini Boden shorts (size 10, $4.95) and autumnal colored New Balance sneakers (size 5, $9.95.) Mixing patterns and colors is a great way to make a fashionable first impression!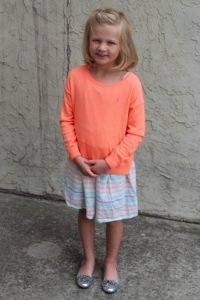 Lexi is pairing a Cherokee dress (size 7/8, $6.95) with a Ralph Lauren sweater (size 6, $6.95) and glittery Stuart Weitzman flats (size 2, $9.95.) Just because you've got to go to school, it doesn't mean you have to dull your sparkle – I mean, check out those shoes!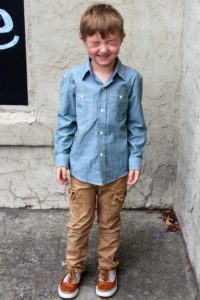 Lehigh's green button-down is by Nautica (size 6, $1.95), his cargo pants are Cat & Jack (size 6, $4.95) and his shoes are Old Navy(size 1, $4.95.) The classic lines and colors of this outfit may say business, but that face is all play!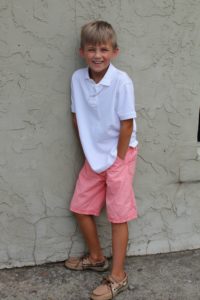 Last but not least, Aidan is wearing a Gap polo (size 8, $1.50) and H&M shorts (size 8, $2.95) with Sperry loafers (size 3, $12.95.) This look has that effortless Americana chic that's perfect for the first day, but harkens back to summer fun on the water and in the sand.
Of course, no back to school look is complete without a backpack! Pictured below, from left to right: super cool skull and crossbones ($5.95), the perfect bag for your sports nut ($6.95), a precious Pottery Barn unicorn ($9.95) and Buxton knapsack ($6.95.)
What are your kiddos hitting the hallways in? We want to see your first day looks! Read more about our Back to School contest here!