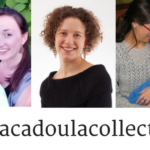 Mama Goose is partnering up with the Ithaca Doula Collective to host a free Meet the Doulas event on Sunday, March 11th.
Join us at the store from 4-6pm to meet doulas in the Ithaca area and find out exactly what they do and whether their services are right for your family. This is a great opportunity to meet other mamas and chat about pregnancy and doula-related issues.
Enjoy this free, informational event and some refreshments on us! All attendees will receive a coupon for Mama Goose.