We carry select new products that we love and think you will too.  Click the photos below  for details on items we have in our store.
Just in for the season!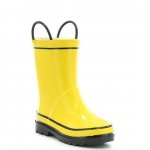 Western Chief Rain Boots
These super snazzy puddle-jumpers are 100% rubber and PVC free. You can choose from several fun patterns, available in toddler size 5 to youth size 4.

Solid color boots (yellow & black): $25.00
Print styles and Firechief boots: $30.00
Products we love & carry year round:
KaWaii Pocket Diapers
Choose from solid color micro-fiber pocket diapers,  heavy wetter micro-fiber pocket diapers, Bamboo pocket diapers, and Bamboo Minky pocket diapers.
Two-part cloth diaper system fits babies from 8-36lbs. Diapers consist of either a durable waterproof outer cover and two large unbleached microfiber inserts or bamboo inserts that have a 40x more absorbent surface than cotton. Bamboo diaper inserts are made of five layers of 100% Grade A Organic Bamboo & are hypo-allergenic. Heavy Wetter diapers are designed to hold up over night with a 3 layer outer shell and an additional absorbent front panel.
The best part about KaWaii all-in-one cloth diapers is that they are affordable. $10.50 for solid color micro-fiber diapers,  $11.50 for the Heavy Wetters, and $16.00 for the Bamboo styles. We also sell additional KaWaii micro-fiber or Bamboo inserts and Chinese Pre-Folds.